Do You Need Porcelain Dental Veneers?
Posted by Picacho Family Dental on Sep 29 2020, 10:15 PM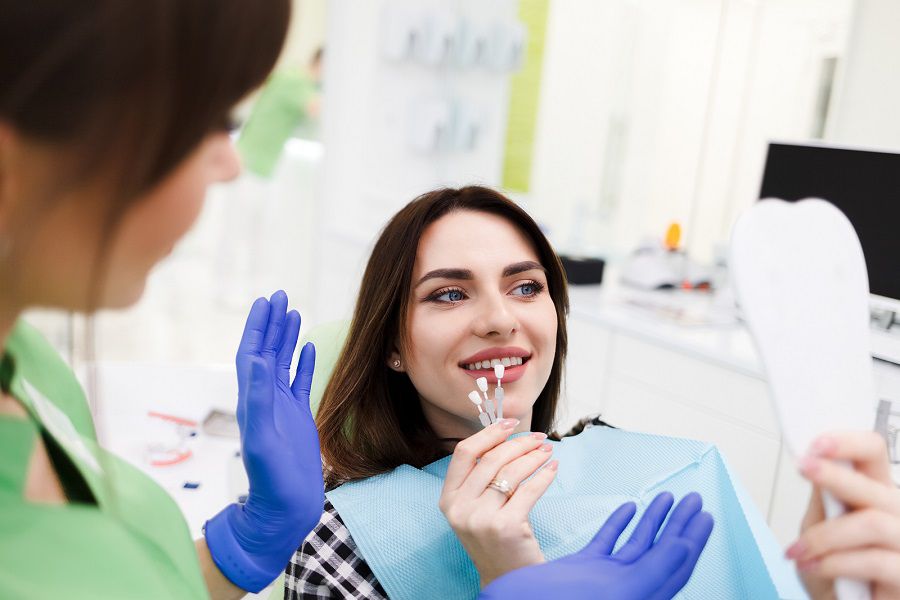 Are your teeth chipped, discolored, or broken? If you're looking to feel more confident about your smile and improve the appearance of your teeth, dental veneers are a simple option that can pack a large impact.
Depending on your need, porcelain dental veneers resist stains better than their resin counterparts and provide light-reflecting properties that mimic natural teeth. Let's dive deeper into what dental veneers are and how they can benefit you.
What are Porcelain Dental Veneers?
Porcelain dental veneers are thin, personalized, tooth-colored shells that are attached to the front of your teeth. They are permanently bonded and can help improve your teeth's color, shape, length, or size. You also have the option to get one veneer, in the case of a broken or chipped tooth, or anywhere between six and eight to achieve a more symmetrical smile.
What Do Dental Veneers Help Fix?
Porcelain veneer's largest benefit is the improved appearance of your teeth – giving you a brighter and more confident smile. Veneers have been proven to help numerous cosmetic issues, including teeth that are:
Discolored due to stains, excessive fluoride, or root canal treatment
Worn down
Chipped or broken
Misaligned or irregularly shaped
Besides these, they also fix large teeth gaps. Porcelain dental veneers also last for more than a decade, which makes them an excellent long-term investment. Traditional veneers can cost an average of $925 to $2,500 per tooth. However, it's best to consult with your Yuma dentist for an exact cost estimate. 
How to Prepare for Your Dental Veneer Appointment
When you visit Picacho Family Dental for a consultation on dental veneers, you will discuss your options and determine how many veneers you need. They will take various X-rays, conduct a comprehensive examination, and understand your medical history to determine if you are a veneer candidate. 
Your teeth will also be sized for a lab to develop your custom-shaped veneers. Your veneers will then be bonded to your teeth with dental cement to ensure they last for years.
Get Porcelain Dental Veneers in Yuma
If you're ready to feel confident about your smile again, porcelain veneers are a safe and effective option. Dr. Jason Lemmon, DDS is dedicated to helping your smile appear brighter and more natural with a veneer procedure.
Picacho Family Dental now provides virtual consults! Schedule your appointment today.